June 7th, 2018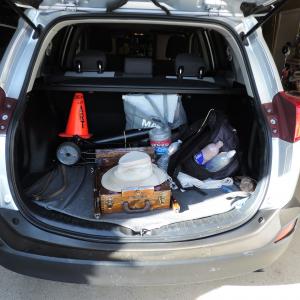 I posted this on a discussion about Plein Air painting as a response to the lamentations of the OP. She said it had been pretty dreary and rainy lately so decided to leave her painting stuff at home. Turned out to be a beautiful day and she was sorry she missed the painting opportunity.
This was my reply:

I learned that lesson long ago and now, 99% of the time, I have my plein air equipment in the back of our SUV and I'm "Ready to Go".

Point is obvious, adopt the Boy Scouts motto "BE PREPARED" which means you are always in a state of readiness in mind and body ...and in this case in your vehicle. I keep what I need to paint if I see something that calls to me and the conditions are right to paint at that moment.

Besides being ready for the above it also helps that I don't have to load up my suv every time I plan to go painting plein air. I just have to take a quick inventory of everything in the car to make sure everything is there. Sometimes I can forget to take enough water (all my work is acrylics) or not enough paper towels. I also check my supports, canvas and panels.
May 28th, 2018
When I know I'm taking a trip via airplane I also know I'm going to be doing a lot of sitting around the airport waiting.
In the Marine Corps we called it "Hurry up and wait".

This waiting time is actually an opportunity. Because of all of this waiting I make sure I have a small sketch book and pens to do quick studies of my fellow travelers also hurrying up and waiting.

Trick is not to let anyone know you're sketching them. I find wearing a hat with a wide brim helps to stay undetected.